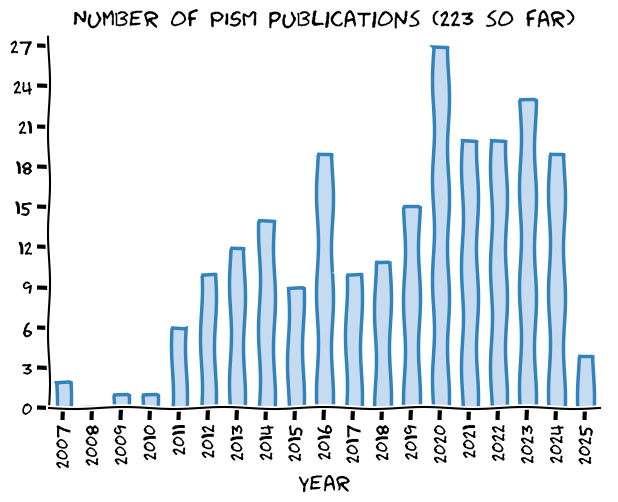 To add a paper to this list, send an e-mail with a BibTeX entry to uaf-pism@alaska.edu. Thanks!
(Note. This plot and the list below are generated by processing applications.bib.)
2023
2022
A. Aschwanden and D. J. Brinkerhoff. Calibrated mass loss predictions for the Greenland Ice Sheet. Geophysical Research Letters, 2022. doi:10.1029/2022GL099058.
Aljaž Bavec and Matjaž Depolli. Alpine glacier simulation with linear climate models. In 2022 45th Jubilee International Convention on Information, Communication and Electronic Technology (MIPRO), 245–250. 2022. doi:10.23919/MIPRO55190.2022.9803326.
Anaïs Bretones, Kerim H. Nisancioglu, Mari F. Jensen, Ailin Brakstad, and Shuting Yang. Transient increase in arctic deep-water formation and ocean circulation under sea-ice retreat. Journal of Climate, 35(1):109 – 124, 2022. doi:10.1175/JCLI-D-21-0152.1.
Chris D. Clark, Jeremy C. Ely, Richard C. A. Hindmarsh, Sarah Bradley, Adam Ignéczi, Derek Fabel, Colm Ó Cofaigh, Richard C. Chiverrell, James Scourse, Sara Benetti, Tom Bradwell, David J. A. Evans, David H. Roberts, Matt Burke, S. Louise Callard, Alicia Medialdea, Margot Saher, David Small, Rachel K. Smedley, Edward Gasson, Lauren Gregoire, Niall Gandy, Anna L. C. Hughes, Colin Ballantyne, Mark D. Bateman, Grant R. Bigg, Jenny Doole, Dayton Dove, Geoff A. T. Duller, Geraint T. H. Jenkins, Stephen L. Livingstone, Stephen McCarron, Steve Moreton, David Pollard, Daniel Praeg, Hans Petter Sejrup, Katrien J. J. Van Landeghem, and Peter Wilson. Growth and retreat of the last British–Irish Ice Sheet, 31 000 to 15 000 years ago: the BRITICE-CHRONO reconstruction. Boreas, 2022. doi:10.1111/bor.12594.
R. Döscher, M. Acosta, A. Alessandri, P. Anthoni, T. Arsouze, T. Bergman, R. Bernardello, S. Boussetta, L.-P. Caron, G. Carver, M. Castrillo, F. Catalano, I. Cvijanovic, P. Davini, E. Dekker, F. J. Doblas-Reyes, D. Docquier, P. Echevarria, U. Fladrich, R. Fuentes-Franco, M. Gröger, J. v. Hardenberg, J. Hieronymus, M. P. Karami, J.-P. Keskinen, T. Koenigk, R. Makkonen, F. Massonnet, M. Ménégoz, P. A. Miller, E. Moreno-Chamarro, L. Nieradzik, T. van Noije, P. Nolan, D. O'Donnell, P. Ollinaho, G. van den Oord, P. Ortega, O. T. Prims, A. Ramos, T. Reerink, C. Rousset, Y. Ruprich-Robert, P. Le Sager, T. Schmith, R. Schrödner, F. Serva, V. Sicardi, M. Sloth Madsen, B. Smith, T. Tian, E. Tourigny, P. Uotila, M. Vancoppenolle, S. Wang, D. Wårlind, U. Willén, K. Wyser, S. Yang, X. Yepes-Arbós, and Q. Zhang. The EC-Earth3 Earth system model for the Coupled Model Intercomparison Project 6. Geoscientific Model Development, 15(7):2973–3020, 2022. doi:10.5194/gmd-15-2973-2022.
J. Feldmann, R. Reese, R. Winkelmann, and A. Levermann. Shear-margin melting causes stronger transient ice discharge than ice-stream melting in idealized simulations. The Cryosphere, 16(5):1927–1940, 2022. doi:10.5194/tc-16-1927-2022.
S. Hinck, E. J. Gowan, X. Zhang, and G. Lohmann. PISM-LakeCC: Implementing an adaptive proglacial lake boundary into an ice sheet model. The Cryosphere, pages 941–965, 2022. doi:10.5194/tc-16-941-2022.
James D. Kirkham, Kelly A. Hogan, Robert D. Larter, Neil S. Arnold, Jeremy C. Ely, Chris D. Clark, Ed Self, Ken Games, Mads Huuse, Margaret A. Stewart, Dag Ottesen, and Julian A. Dowdeswell. Tunnel valley formation beneath deglaciating mid-latitude ice sheets: Observations and modelling. Quaternary Science Reviews, pages 107680, oct 2022. doi:10.1016/j.quascirev.2022.107680.
Oğuzhan Köse, M. Akif Sarıkaya, Attila Çiner, Adem Candaş, Cengiz Yıldırım, and Klaus M. Wilcken. Reconstruction of Last Glacial Maximum glaciers and palaeoclimate in the central Taurus Range, Mt. Karanfil, of the Eastern Mediterranean. Quaternary Science Reviews, 291:107656, sep 2022. doi:10.1016/j.quascirev.2022.107656.
Shuang Liu, Kaiheng Hu, Weiming Liu, and Paul A. Carling. Hydro-climatic characteristics of Yarlung Zangbo River Basin since the Last Glacial Maximum. Adv. Atmos. Sci., 2022. doi:10.1007/s00376-021-1150-7.
Xiao Luo and Ting Lin. A Semi-Empirical Framework for ice sheet response analysis under Oceanic forcing in Antarctica and Greenland. Climate Dynamics, may 2022. doi:10.1007/s00382-022-06317-x.
M. S. Madsen, S. Yang, G. Aðalgeirsdóttir, S. H. Svendsen, C. B. Rodehacke, and I. M. Ringgaard. The role of an interactive greenland ice sheet in the coupled climate-ice sheet model EC-Earth-PISM. Climate Dynamics, Feb 2022. doi:10.1007/s00382-022-06184-6.
Julian Martin, Bethan J. Davies, Richard Jones, and Varyl Thorndycraft. Modelled sensitivity of Monte San Lorenzo ice cap, Patagonian Andes, to past and present climate. Frontiers in Earth Science, oct 2022. doi:10.3389/feart.2022.831631.
Mark L. Pittard, Pippa L. Whitehouse, Michael J. Bentley, and David Small. An ensemble of Antarctic deglacial simulations constrained by geological observations. Quaternary Science Reviews, 298:107800, dec 2022. doi:10.1016/j.quascirev.2022.107800.
T. Schlemm, J. Feldmann, R. Winkelmann, and A. Levermann. Stabilizing effect of mélange buttressing on the marine ice-cliff instability of the West Antarctic Ice Sheet. The Cryosphere, 16(5):1979–1996, 2022. doi:10.5194/tc-16-1979-2022.
Martin Siegert and Nicholas R Golledge. Advances in Numerical Modelling of the Antarctic Ice Sheet. In Antarctic Climate Evolution, chapter 5, pages 199–218. Elsevier, 2nd edition, 2022.
Qing Yan, Ting Wei, and Zhongshi Zhang. Modeling the climate sensitivity of Patagonian glaciers and their responses to climatic change during the global last glacial maximum. Quaternary Science Reviews, 288:107582, 2022. doi:10.1016/j.quascirev.2022.107582.
Hu Yang, Uta Krebs-Kanzow, Thomas Kleiner, Dmitry Sidorenko, Christian Bernd Rodehacke, Xiaoxu Shi, Paul Gierz, Lu Niu, Evan J. Gowan, Sebastian Hinck, Xingxing Liu, Lennert B. Stap, and Gerrit Lohmann. Impact of paleoclimate on present and future evolution of the Greenland Ice Sheet. PLOS ONE, 17(1):1–21, 2022. doi:10.1371/journal.pone.0259816.
M. Zeitz, J. M. Haacker, J. F. Donges, T. Albrecht, and R. Winkelmann. Dynamic regimes of the Greenland Ice Sheet emerging from interacting melt-elevation and glacial isostatic adjustment feedbacks. Earth System Dynamics, 13(3):1077–1096, 2022. doi:10.5194/esd-13-1077-2022.
A.-S. P. Zinck and A. Grinsted. Brief communication: Estimating the ice thickness of the Müller Ice Cap to support selection of a drill site. The Cryosphere, 16(4):1399–1407, 2022. doi:10.5194/tc-16-1399-2022.
2021
2020
2019
2018
2017
2016
2015
2014
2013
2012
2011
2010
R. Calov, R. Greve, and 9 others. Results from the Ice-Sheet Model Intercomparison Project-Heinrich Event INtercOmparison (ISMIP HEINO). Journal of Glaciology, 56(197):371–383, 2010. doi:10.3189/002214310792447789.
2009
E. Bueler and J. Brown. Shallow shelf approximation as a "sliding law" in a thermodynamically coupled ice sheet model. J. Geophys. Res.: Earth Surface, 2009. doi:10.1029/2008JF001179.
2007
E. Bueler, J. Brown, and C. Lingle. Exact solutions to the thermomechanically coupled shallow ice approximation: effective tools for verification. J. Glaciol., 53(182):499–516, 2007. doi:10.3189/002214307783258396.
E. Bueler, C. S. Lingle, and J. A. Kallen-Brown. Fast computation of a viscoelastic deformable Earth model for ice sheet simulation. Ann. Glaciol., 46:97–105, 2007. doi:10.3189/172756407782871567.