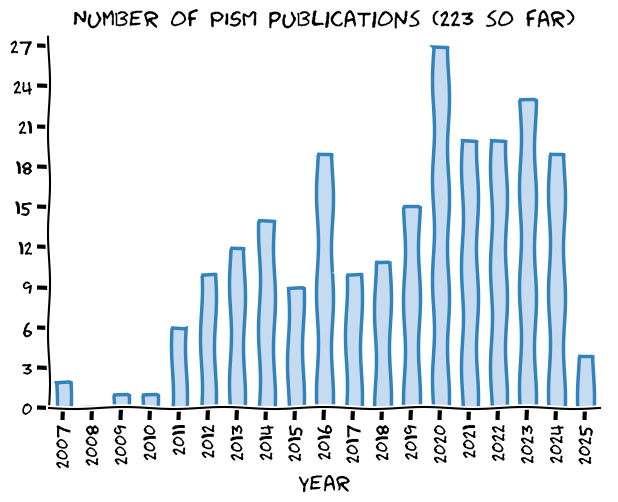 This plot and the list below are generated by processing applications.bib. To add a paper to this list, send an e-mail with a BibTeX entry to uaf-pism@alaska.edu. Thanks!
2022
Shuang Liu, Kaiheng Hu, Weiming Liu, and Paul A. Carling. Hydro-climatic characteristics of Yarlung Zangbo River Basin since the Last Glacial Maximum. Adv. Atmos. Sci., 2022. doi:10.1007/s00376-021-1150-7.
Martin Siegert and Nicholas R Golledge. Advances in Numerical Modelling of the Antarctic Ice Sheet. In Antarctic Climate Evolution, chapter 5, pages 199–218. Elsevier, 2nd edition, 2022.
2021
2020
2019
2018
2017
2016
2015
2014
2013
2012
2011
2010
R. Calov, R. Greve, and 9 others. Results from the Ice-Sheet Model Intercomparison Project-Heinrich Event INtercOmparison (ISMIP HEINO). Journal of Glaciology, 56(197):371–383, 2010. doi:10.3189/002214310792447789.
2009
E. Bueler and J. Brown. Shallow shelf approximation as a "sliding law" in a thermodynamically coupled ice sheet model. J. Geophys. Res.: Earth Surface, 2009. doi:10.1029/2008JF001179.
2007
E. Bueler, J. Brown, and C. Lingle. Exact solutions to the thermomechanically coupled shallow ice approximation: effective tools for verification. J. Glaciol., 53(182):499–516, 2007. URL: http://www.igsoc.org/journal/53/182/j06j094.pdf.
E. Bueler, C. S. Lingle, and J. A. Kallen-Brown. Fast computation of a viscoelastic deformable Earth model for ice sheet simulation. Ann. Glaciol., 46:97–105, 2007. URL: http://www.igsoc.org/annals/46/a46a130.pdf.