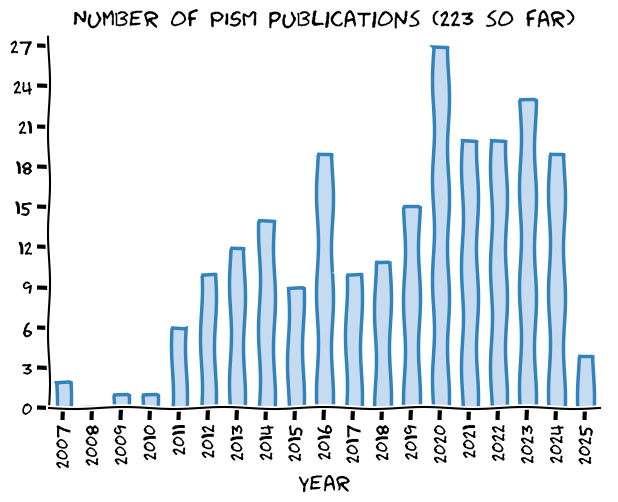 To add a paper to this list, send an e-mail with a BibTeX entry to uaf-pism@alaska.edu. Thanks!
(Note. This plot and the list below are generated by processing applications.bib.)
2022
Anaïs Bretones, Kerim H. Nisancioglu, Mari F. Jensen, Ailin Brakstad, and Shuting Yang. Transient increase in arctic deep-water formation and ocean circulation under sea-ice retreat. Journal of Climate, 35(1):109 – 124, 2022. URL: https://journals.ametsoc.org/view/journals/clim/35/1/JCLI-D-21-0152.1.xml, doi:10.1175/JCLI-D-21-0152.1.
R. Döscher, M. Acosta, A. Alessandri, P. Anthoni, T. Arsouze, T. Bergman, R. Bernardello, S. Boussetta, L.-P. Caron, G. Carver, M. Castrillo, F. Catalano, I. Cvijanovic, P. Davini, E. Dekker, F. J. Doblas-Reyes, D. Docquier, P. Echevarria, U. Fladrich, R. Fuentes-Franco, M. Gröger, J. v. Hardenberg, J. Hieronymus, M. P. Karami, J.-P. Keskinen, T. Koenigk, R. Makkonen, F. Massonnet, M. Ménégoz, P. A. Miller, E. Moreno-Chamarro, L. Nieradzik, T. van Noije, P. Nolan, D. O'Donnell, P. Ollinaho, G. van den Oord, P. Ortega, O. T. Prims, A. Ramos, T. Reerink, C. Rousset, Y. Ruprich-Robert, P. Le Sager, T. Schmith, R. Schrödner, F. Serva, V. Sicardi, M. Sloth Madsen, B. Smith, T. Tian, E. Tourigny, P. Uotila, M. Vancoppenolle, S. Wang, D. Wårlind, U. Willén, K. Wyser, S. Yang, X. Yepes-Arbós, and Q. Zhang. The EC-Earth3 Earth system model for the Coupled Model Intercomparison Project 6. Geoscientific Model Development, 15(7):2973–3020, 2022. URL: https://gmd.copernicus.org/articles/15/2973/2022/, doi:10.5194/gmd-15-2973-2022.
J. Feldmann, R. Reese, R. Winkelmann, and A. Levermann. Shear-margin melting causes stronger transient ice discharge than ice-stream melting in idealized simulations. The Cryosphere, 16(5):1927–1940, 2022. URL: https://tc.copernicus.org/articles/16/1927/2022/, doi:10.5194/tc-16-1927-2022.
S. Hinck, E. J. Gowan, X. Zhang, and G. Lohmann. PISM-LakeCC: Implementing an adaptive proglacial lake boundary into an ice sheet model. The Cryosphere, pages 941–965, 2022. URL: https://tc.copernicus.org/articles/16/941/2022/, doi:10.5194/tc-16-941-2022.
Shuang Liu, Kaiheng Hu, Weiming Liu, and Paul A. Carling. Hydro-climatic characteristics of Yarlung Zangbo River Basin since the Last Glacial Maximum. Adv. Atmos. Sci., 2022. doi:10.1007/s00376-021-1150-7.
Xiao Luo and Ting Lin. A Semi-Empirical Framework for ice sheet response analysis under Oceanic forcing in Antarctica and Greenland. Climate Dynamics, may 2022. doi:10.1007/s00382-022-06317-x.
M. S. Madsen, S. Yang, G. Aðalgeirsdóttir, S. H. Svendsen, C. B. Rodehacke, and I. M. Ringgaard. The role of an interactive greenland ice sheet in the coupled climate-ice sheet model EC-Earth-PISM. Climate Dynamics, Feb 2022. doi:10.1007/s00382-022-06184-6.
T. Schlemm, J. Feldmann, R. Winkelmann, and A. Levermann. Stabilizing effect of mélange buttressing on the marine ice-cliff instability of the West Antarctic Ice Sheet. The Cryosphere, 16(5):1979–1996, 2022. URL: https://tc.copernicus.org/articles/16/1979/2022/, doi:10.5194/tc-16-1979-2022.
Martin Siegert and Nicholas R Golledge. Advances in Numerical Modelling of the Antarctic Ice Sheet. In Antarctic Climate Evolution, chapter 5, pages 199–218. Elsevier, 2nd edition, 2022.
Qing Yan, Lewis A. Owen, Chuncheng Guo, Zhongshi Zhang, Jinzhe Zhang, and Huijun Wang. Widespread glacier advances across the Tian Shan during Marine Isotope Stage 3 not supported by climate-glaciation simulations. Fundamental Research, 2022. URL: https://www.sciencedirect.com/science/article/pii/S266732582200111X, doi:10.1016/j.fmre.2022.01.033.
Hu Yang, Uta Krebs-Kanzow, Thomas Kleiner, Dmitry Sidorenko, Christian Bernd Rodehacke, Xiaoxu Shi, Paul Gierz, Lu Niu, Evan J. Gowan, Sebastian Hinck, Xingxing Liu, Lennert B. Stap, and Gerrit Lohmann. Impact of paleoclimate on present and future evolution of the Greenland Ice Sheet. PLOS ONE, 17(1):1–21, 2022. doi:10.1371/journal.pone.0259816.
A.-S. P. Zinck and A. Grinsted. Brief communication: Estimating the ice thickness of the Müller Ice Cap to support selection of a drill site. The Cryosphere, 16(4):1399–1407, 2022. URL: https://tc.copernicus.org/articles/16/1399/2022/, doi:10.5194/tc-16-1399-2022.
2021
2020
2019
2018
2017
2016
2015
2014
2013
2012
2011
2010
R. Calov, R. Greve, and 9 others. Results from the Ice-Sheet Model Intercomparison Project-Heinrich Event INtercOmparison (ISMIP HEINO). Journal of Glaciology, 56(197):371–383, 2010. doi:10.3189/002214310792447789.
2009
E. Bueler and J. Brown. Shallow shelf approximation as a "sliding law" in a thermodynamically coupled ice sheet model. J. Geophys. Res.: Earth Surface, 2009. doi:10.1029/2008JF001179.
2007
E. Bueler, J. Brown, and C. Lingle. Exact solutions to the thermomechanically coupled shallow ice approximation: effective tools for verification. J. Glaciol., 53(182):499–516, 2007. URL: http://www.igsoc.org/journal/53/182/j06j094.pdf.
E. Bueler, C. S. Lingle, and J. A. Kallen-Brown. Fast computation of a viscoelastic deformable Earth model for ice sheet simulation. Ann. Glaciol., 46:97–105, 2007. URL: http://www.igsoc.org/annals/46/a46a130.pdf.